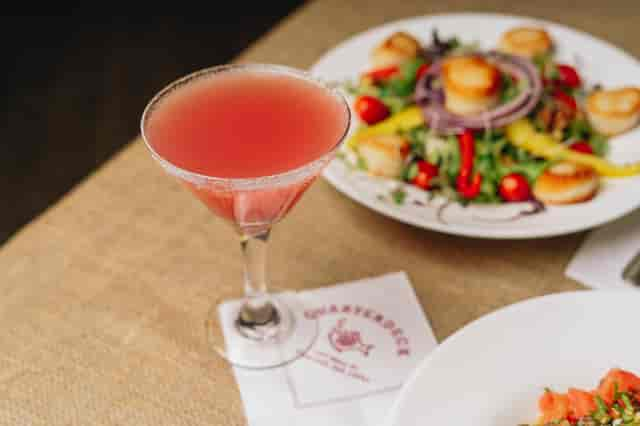 Information
Private Events
The Quarterdeck offers the ideal setting for your next event! We would be happy to assist you with all the details of your family party, business function, rehearsal dinner, birthday celebration, anniversary party or other special event.
CAPACITY/AVAILABILITY
The maximum occupancy for the dining room is 40 people. 
Please note that we do not have the space available to host evening events during the months of June, July and August. Other months may have limited availability, call or email for information.

ROOM RENTAL FEES/PAYMENTS:
The room fee for the Function Room is $200 and is non-refundable. The fee is due when the event is booked to hold the space for the agreed upon date and time. Payment is due at the time of the event. 
FINAL PAYMENT
100% of the final balance shall be paid at the conclusion of the event. Payment can be made by cash, certified check, or credit card. (Visa, MasterCard, American Express and Discover)

FOOD & BEVERAGE MINIMUM
The food and beverage minimum is $500.

FOOD & BEVERAGE
All food and beverage must be purchased and prepared through Quarterdeck, with the exception of celebratory cakes and cupcakes. All food must be consumed on the premises; leftover food may not be packaged to go due to health and sanitation regulations. Quarterdeck carries a full liquor license. By law, no alcoholic beverages may be brought onto the property or taken from the premises. In the interest of protecting our patrons and the general public, Quarterdeck and its employees have the right to refuse service of alcoholic beverages to any patron or guest who by his or her behavior or appearance is believed to be incapable of tolerating further alcohol consumption. 

TAX & GRATUITY
All food and beverage prices are subject to a non-taxable 20% suggested gratuity and Massachusetts Meal Tax, currently 7%. 
GUEST GUARANTEE
Final guest count must be provided seven (7) days prior to your event. Quarterdeck will charge for the guaranteed number of guests, or the total number served, whichever is greater. If additional guests attend the function, we will do our best to accommodate them. If no guest guarantee is received within seven (7) days prior to the function, Quarterdeck will consider the original expected guest number as the final guest count.

LINEN
We offer linen for your event at a minimal charge. Requests must be made a week prior to the event.

CAKE CUTTING FEE
There is a $2 per slice fee for cutting and serving cake.

CANCELLATION POLICY
In the event of cancellation of this contract through no fault of Quarterdeck, there shall be a cancellation charge.

DECORATIONS
Decorations are welcomed. Glitter, confetti, rice and sparklers are prohibited. All candles must be enclosed. Quarterdeck will not permit the affixing of anything to the walls or ceilings. Client is responsible for removing all decorations before leaving. Failure to comply will result in a clean up fee. 

DELIVERIES
Floral arrangements, musical instruments and specialty desserts may be delivered to Quarterdeck on the day of the function, during regular hours with prior approval and must be removed at the close of the function. Quarterdeck will not be responsible for lost or stolen items brought in by Client, Client guests, or vendors hired by Client. 

MEDIA
We welcome your screen projectors, video presentations, microphones, or PA systems when appropriate. Please obtain management approval prior to the event. 

ENTERTAINMENT
Entertainment, including music, bands, DJs, etc. must be approved by management prior to the function. 

PARKING
Free parking is available in our restaurant parking lot. 

LIABILITY
The Client and guests of the function shall hold Quarterdeck harmless from any claims or expenses on account of injury to any party in connection with the function. The Client and guests of the function are responsible for any and all damages to the restaurant. 

HOLD HARMLESS
Quarterdeck shall be excused and held harmless for the failure to perform any obligation hereunder when prevented from doing so by cause or causes beyond its control which should include, but not limited to, labor disputes, civil commotions, war, fire, or other casualty, inability to obtain any material or services, and Act of God, or any serious maintenance problem, in its sole discretion and judgment, will impair efforts to properly host such a function.
Falmouth
164 Main Street
Falmouth, MA 02540

Hours
Monday - Sunday:
11:30 am - 9:00 pm
Private Event Inquiry
We are taking reservations for work parties, family dinners and off-site catering. Book now!